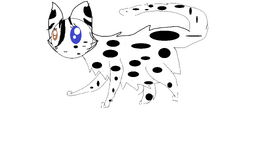 "NOT TOUCHING MAH NEW FLUFFY TAIL!"
- Dragon
TheDragonTrainer (AKA Dragon) is a glaceon. But when she on Lunifer'sAnimalRp Wiki she is transformed into a Snow Leopard, due of the inexistence of Pokemon here. She has a very white fur and black markings on her body. She can summon a blizzard. She is very cheerful and curious, but can become extremely angry easily.
Annoy everyone talking about random things.

Has a great sense of smell, especially when she's hungry.

Blows a wave of icy wind.

Jumps REALLY REALLY high.

She is very magestic and very kind to others.
Gold: 680

Dance Marble: 2